The replacement of round prostheses by anatomical prostheses filled with cohesive silicone gel can be a very suitable option for many patients who had implants years ago and soon need to make a replacement. Depending on the case, it can be a simple surgery or something more complex if, for example, the implant has been broken or a retouching has to be done.
The silicone prostheses we use are the best brands on the market. Its wide catalogue, its high quality and guarantees allow us to implant these prostheses with total security and obtaining excellent results both in appearance and touch.
As we have seen in previous articles about the replacement of silicone prostheses, we must evaluate each case to determine if there are any broken prostheses, if it is necessary or advisable to perform an elevation, or if we must choose another plane of placement for the implants.
We should not take this intervention lightly, so we are going to explain a little more two important aspects that we must discuss with the Plastic Surgeon: the type of prosthesis and the anatomical plane of placement.
Round prostheses vs anatomical prostheses
If you are unclear about the difference between using round prostheses or anatomical prostheses for breast augmentation, the first thing you should know is that the goal of anatomical prostheses is to achieve a breast whose proportions are more natural, and their cohesive silicone gel filling also contributes to a more normal feel.
With a round prosthesis the result is a round breast that often leaves no room for doubt. In addition, depending on the height at which it is placed, there may be a lack of filling in the upper part of the breast. If placed higher up, the areola and nipple may have a tendency to sag. It is true that these implants are cheaper and easier to place, but in the long run it is worth investing a little more and getting a more beautiful and harmonious appearance with an anatomical prosthesis.
Subglandular vs submuscular plane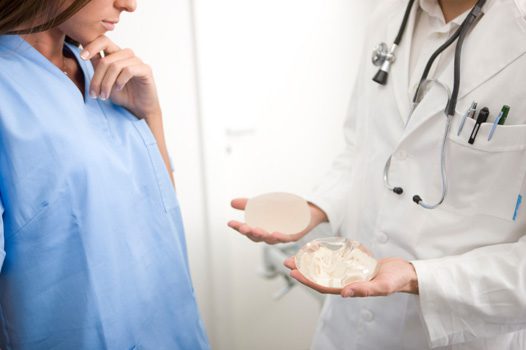 Another important aspect of the implant placement plane, as we see in the diagram the anatomical plane that we consider most suitable to place the breast prosthesis is below the pectoral muscle or in a dual plane (one part covered with muscle and another part by gland).
The advantages of placing the prosthesis underneath the muscle are important. In this position we reduce the risk of capsular contracture and at the time of the annual check-ups mammograms are visualized better. In terms of aesthetics the result is more natural and touch is not so obvious, because the front is the gland, fat and pectoral muscle.
If the placement plane of your breast augmentation was subglandular, i. e. behind the gland and in front of the muscle, it is likely that we will have to make a new pocket under the pectoral muscle to place the new anatomical prostheses there.
In short, we see that cosmetic surgery for a replacement of round prostheses by anatomical prostheses is not always easy. It is important to put yourself in expert hands by choosing a doctor who specializes in cosmetic and reconstructive plastic surgery.