In breast reconstruction and augmentation we currently use silicone gel-filled prostheses. A very special material that stands out for the natural results we can achieve and for its safety. In this article we would like to review its main advantages and highlight the safety of silicone gel implants.
Silicone gel breast prostheses are the most advanced medical device for this type of operation. A thicker and more viscous filling material, which in case of rupture prevents the filling from spreading between the breast tissues, keeping it together and allowing the patient more than enough days to make an appointment and plan the operation with the plastic surgeon.
Price of silicone gel prostheses
Cohesive silicone gel prostheses are undoubtedly the best choice today, their cost is higher but certainly worthwhile. When you have to make such a decision, you must set your priorities: health, quality or price? common sense tells us that the health and quality of the medical product must come first.
The peace of mind that comes with knowing we have the best prosthesis and a lifetime guarantee, as they say, is priceless. The cost over time is a factor that loses weight. As we accumulate experiences throughout our lives we realize that it is often worth spending a little more.
With the most economical options, a rupture of the breast prosthesis supposes a medical emergency, on the other hand, as we have mentioned before, with silicone gel prostheses the safety is greater, since they last longer, are more resistant and even if they break the surgical cleaning to remove the breast implant is simpler and more effective.
Rippling in breast prosthesis
Rippling in breast prostheses are wrinkles or undulations that can arise months after breast augmentation. It is undoubtedly unsightly and can be avoided firstly by planning an implant of the prosthesis underneath the pectoral muscle and secondly by opting for cohesive silicone gel implants.
This location makes it easier to carry out subsequent breast studies, such as mammograms, ultrasounds or biopsies; it does not affect breastfeeding, if we plan to be mothers and breastfeed, there will be no problem. In terms of touch, the result is more natural as we leave the gland, fat and muscle ahead.
As an example we can mention some famous women who have suffered rippling after breast augmentation. This is the case of actresses Hayden Panettiere and Tori Spelling, as well as singers Janet Jackson and Christina Aguilera. As we see in the image, this is the result of a bad choice of placement or type of breast implant..
Types of silicone gel-filled breast prostheses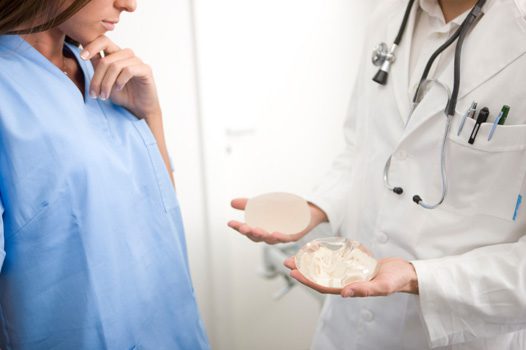 Dr. Martinez Gutierrez works only with the best brands, implanting breast prostheses with a lifetime guarantee. Its extensive catalogues include round and anatomical cohesive gel prostheses. In your interview with the doctor after the pre-operative studies you will be able to discuss which is the best option in your case.
However, as a patient you should know that when we talk about cohesiveness we refer to the density of the silicone filler. The denser the filling, the more homogeneous and safe the breast prosthesis will be, and the safer the filling, the longer its lifespan.
That said, you should also know that round prostheses are usually low in cohesiveness. This may result in the rippling we have discussed and a number of other drawbacks.
On the other hand, anatomical prostheses, which resemble more a natural breast due to their drop shape, are filled with highly cohesive silicone gel. That is, they are firmer to maintain their shape and at the same time are safer and more durable.
If aging, pregnancy or weight changes have caused changes in the shape or size of your breasts, the silicone prosthesis implant may be the solution to achieve the desired appearance. If you want more information please call 638 602 462 to make an appointment with Dr. Martinez Gutierrez without commitment..