Hand Surgery
Microsurgery to repair and rebuild the tissues of the hand in order to recover its functionality and aesthetic appearance
Call us at 638 602 462
REQUEST INFORMATION. FREE CONSULTATION

Call us at 638 602 462
REQUEST INFORMATION. FREE CONSULTATION

Hand surgery is a broad term that covers a wide range of surgeries. In these cases, plastic surgery techniques aim at restoring the functionality and appearance of the natural hand. Such interventions may be needed to troubleshoot congenital, degenerative disorders, infections or after trauma in the hand.
The reconstruction of the hand can address various pathologies of the hand, such as carpal tunnel syndrome, trigger finger, Dupuytren's disease or rheumatic disease.
In your initial consultation, Dr. Martinez Gutierrez will perform a complete medical evaluation of the problem, as plastic surgeons have extensive training in hand surgery, and can treat patients with a variety of problems in this area.
What is the procedure?
The hand surgery is performed in an operating room, either in a clinic or hospital. The most common interventions involve repair internal injuries of bones, tendons, nerves, blood vessels and joints, as well as, external injuries such as burns, cuts, and other skin damage.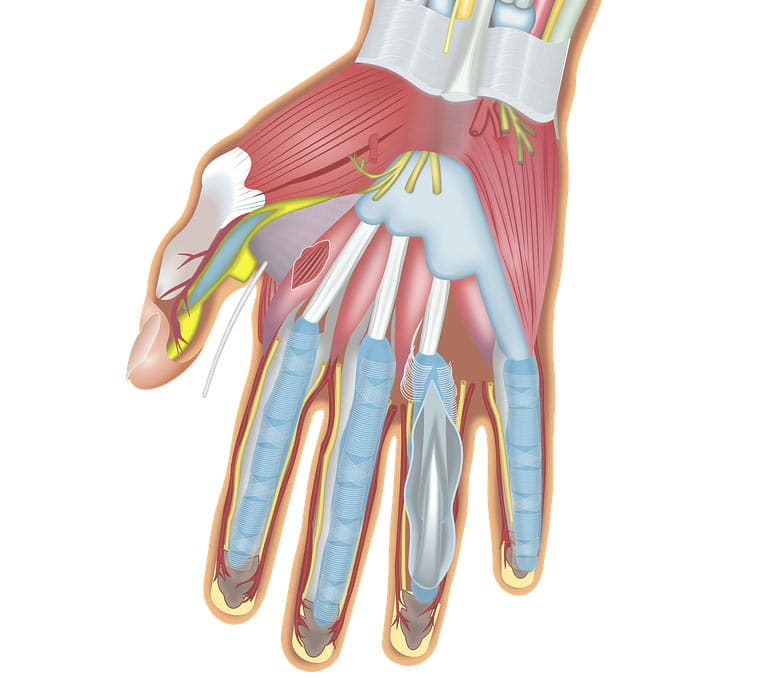 To achieve this, the surgeon use various techniques such as skin flaps, tissue transplants, and grafts of skin, bone, nerves, or other tissues taken from otherwise healthy patient's body.
Even in severe cases, surgical techniques can improve the functional and aesthetic of the hand, but for the latter the patient must be realistic and realize that it may take several months of rehabilitation.
In certain cases you may be required several interventions spaced in time for optimal results in terms of functional recovery.
REQUEST INFORMATION OR GET AN APPOINTMENT
CONSULTATION
Reconstructive and Aesthetic Plastic Surgery in Málaga, Marbella, Granada and Madrid
Frequently asked questions about Hand Surgery
Are there risks?
As in any other intervention may be risks typical of an operation, which, however, in the hands of a qualified plastic surgeon are very small.
The final result depends on many factors, including the previous situation of the hand, the type of injury (tendon, bone, skin, joints, rheumatism) and equally important rehabilitation after surgery.
If you follow the scheme of work scheduled by your surgeon you can get the best possible outcome for your case.
When I can get back to work?
The recovery time after this type of surgery depends largely on the complexity of the surgery and how to heal. For a while you could have the hand immobilized, after which physical therapy is recommended under the supervision of a physiotherapist, with the idea of speed recovery and restore functionality.
The downtime can be from 1 week to 4 or 6 weeks depending on the type of injury, and always be accompanied by strict control both your surgeon as your physiotherapist.
WHERE TO FIND US
MEDICAL CENTERS WHERE WE CAN ATTEND YOU
MÁLAGA
Hospital Vithas Parque San Antonio
AVDA. PINTOR SOROLLA, 2
MARBELLA
Hospital Quirónsalud
AV. SEVERO OCHOA, 22
GRANADA
Hospital Vithas La Salud
Avda. Santa María de la Alhambra, 6
MADRID
Complejo hospitalario Ruber Juan Bravo
C/ JUAN BRAVO, 49