The intervention to replace the silicone prostheses after breast augmentation can be performed in Malaga. Some patients are not clear when breast implants need to be changed, so let's explain the most important.
First of all, we must be aware that current silicone prostheses are very safe and have a long service life. However, circumstances may arise that make it necessary or advisable to replace the silicone prostheses or remove them. For example, if they move, if a rupture occurs, if you feel discomfort or a severe capsular contracture occurs.
If the implants were placed more than ten years ago, they are probably non cohesive silicone implants. In this case, if a rupture of the prosthesis occurs, surgery is more complicated, since the filling is not held together and flows between the breast tissues.
In Malaga we implant only the best prostheses on the market. Cohesive silicone gel prosthesis offering a lifetime replacement warranty. They also include financial assistance for operating room expenses, anesthesia and surgery if a rupture occurs in the first 10 years.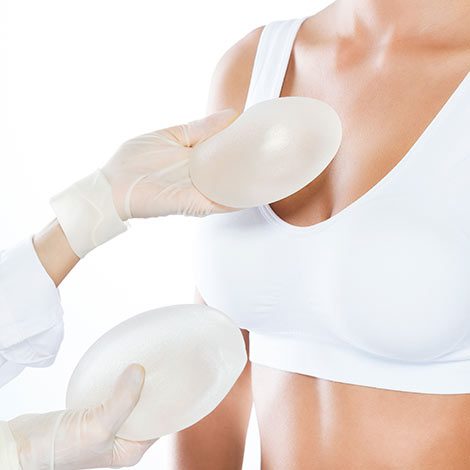 In the past, change was forced by security concerns. Now, however, the prostheses that we implant last much longer and if in the annual check-ups we verify that everything is OK, there will be no reason to change.
If the change is motivated by personal reasons, because you want prostheses of a different size or simply want them to be removed definitively, Dr. Martinez Gutierrez can study your case to advise you personally and explain what surgery and recovery would be like.
Intervention for a silicone prosthesis replacement is usually less painful than the first. Recovery is also faster if there are no complications. Before surgery we must verify the current state of the prostheses in case of rupture. We also evaluate your breasts (shape, skin texture, mammary gland, etc.), as well as the access route to proceed.
Removing or replacing broken prostheses in Málaga
To diagnose a ruptured silicone prosthesis, you must see your plastic surgeon. A physician trained to perform a proper screening, which involves maneuvers that require some expertise and tests such as ultrasound or MRI. If confirmed, the plastic surgeon will be the best person to explain your options to you.
As a patient, it is normal to feel a certain concern, but you should be aware that this type of complications with current cohesive silicone gel implants pose no health risk. In fact, the procedure can be scheduled several weeks without any urgency.
If you would like to remove or replace your silicone prosthesis, you can now call 638-602-462 to schedule a no-obligation appointment with Dr. Martinez Gutierrez, cosmetic and reconstructive plastic surgery specialist.